JOLOtunes with The Happy Ones
---
Join us for JOLOtunes
All shows are from 12:30-3:30 | Unless further noted!
Please note that our JOLOtunes' act lineup may change without notice. Every show is open to the public, NEVER a cover charge. Come enjoy these talented artists in our 2019 line up!
No outside food or drinks! | No pets!
The Happy Ones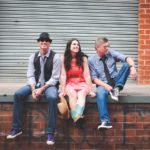 Open up the musical blender, stuff it full of Train, Maroon 5, Tom Petty, Little Big Town, The Eagles, PUSH PLAY and you've got, The Happy Ones!
THE HAPPY ONES! An original modern pop/rock acoustic trio with a high energy but warm and inviting stage presence. If you like : Phillip Phillips, Train, American Authors and bands like these then you will love THE HAPPY ONES!!