Pilot Mountain, NC -

January 30, 2018
JOLO Winery & Vineyards' 2016 Pilot Fog brought home a prestigious Platinum Medal 
earlier this week at the 
2
018 International Winemaker Challenge Wine Competition
 that took place in San Diego, California. "Out of over 1,000 entries, less than five percent earned a platinum medal," noted JW Ray, Winemaker and Vineyard Manager of JOLO Winery & Vineyards. "Many of the bottles in this exclusive category cost twice or even three times our retail price.  This competition is one of the most rewarding as it is a jury of our peers from highly regarded wineries in California and around the world." The other JOLO award medal winners are as follows:
2016 Crimson Creek and 2017 Golden Hallows Reserve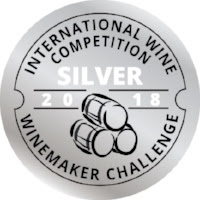 2016 JOLOTAGE
The 9th annual Winemaker Challenge International Wine Competition took place in San Diego, California, home of the "Challenge" series of wine & spirits competitions. Winemaker Challenge kicks off the series as the first major international wine competition of the year. This year's lineup of judges included the legendary Gary Eberle, the father of Paso Robles wine, Simi winemaker Susan Lueker, Nicole Hitchcock from J Vineyards, Maayan Koschitsky of Atelier Melka, among others. "The judges of this international competition have confirmed what our fans already know...that JOLO is making very special wine here in the Yadkin Valley," said Ray. "We are confident that our 2017 vintage will prove to be even better, as we are in process of bottling our latest offerings of Pilot Fog, Crimson Creek and JOLOTAGE...all medal winners at this year's competition." The Winemaker Challenge brings together many of the most talented winemakers in the profession to evaluate recently released young wines. Our teams of winemakers scrutinize every entry in a blind tasting that assures wines are judged on the merits rather than pedigree. JOLO Winery & Vineyards is located at
219 JOLO Winery Lane
in Pilot Mountain. Tasting Lodge hours are
Thursday
thru
Saturday
10:30 a.m. until 6:00 p.m.
and Sundays from
10:30 a.m. until 5:00 p.m.